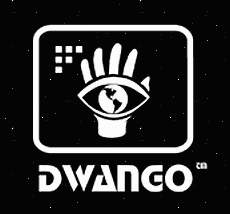 AUSTIN DWANGO
To download the WIN95 client server click on: dwango95.exe (538k)
Directions for install:
Download the file dwango.exe
Put dwango.exe into a temporary directory
Run dwango.exe by typing: "dwango"
Run the insall program by typing: "install" for dos version, or "setup" for win95 version
Follow the on-screen directions and your done!
To see a sample of the DWANGO lobby click here.
For game patches, click on the supported game below:


Ultimate Doom 1.9
Doom2 1.9
Hexen 1.1
Heretic, Shadow of the Serpent
Terminal Velocity 1.2CD
Duke Nukem 1.3SW
Net Mech
War II 1.2
Doom 1.9SW
Heretic 1.2SW
Strife 1.1SW
Descent II 1.0
War II 1.3
Descent II 1.1
If you like playing these games against the computer, you will love playing against real people.
You are visitor:
For more info:
Tech Support: (318)425-5252
email: info@dwango.com
CREATED BY SHASTA(CYBERTY)
Copyright 1996 - Cybertysment - All Rights Reserved